Sleep is a critical component in creating and maintaining one's health and navigating weight loss.  As a news topic, sleep makes headlines nearly every week.  Although there's still debate about the perfect number of hours one should get each night, the collective goal is at least seven.  If you're sleeping less than seven hours per night, learn how depriving yourself of sleep is affecting your weight goals and overall health.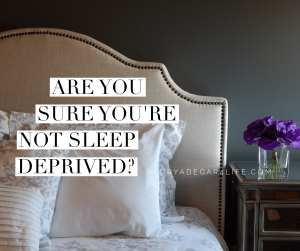 The American Society for Metabolic & Bariatric Surgery lists SLEEP as one of the key lifestyle changes for long-term results after surgery: "A healthy sleep pattern (called "sleep hygiene") is another key to successful weight management. Setting a regular bedtime is not just for kids! Even adults benefit from regular sleep times, and from setting aside enough time to sleep. Inadequate sleep has been identified as one contributing factor in weight gain. As you seek to improve your sleep habits, there are techniques that can help: avoiding evening caffeine, exercising earlier in the day (not in the few hours before bed), and creating a peaceful bedroom environment that is quiet, not too bright, and comfortable. Also, many patients have sleep apnea before bariatric surgery. While sleep apnea can improve with weight loss, it is important to continue your treatment for sleep apnea. You should discuss the appropriateness of changing sleep apnea treatment with your doctor before you make any modifications."
Learn more about the connection between sleep and weight loss.
Sleep Deprivation Hurts Workers, So Why Does Our Culture Encourage It?
Foods that Help You Sleep
FAA to Check Overweight Pilots for Restful Sleep
Lack of Sleep May Increase Calorie Consumption
8 Habits of Extremely Well Rested People
5 Ways Exercise Affects Sleep
Is Lack of Sleep Affecting Your Food Choices?
How Exercise Can Make Us Sleep Better
Lost Sleep Makes Men Bad Grocery Shoppers
How Sleep Loss Adds to Weight Gain
Six Reasons Not to Skimp on Sleep
Waking Up to Sleep's Role in Weight Control
How Lack of Sleep Can Cause You to Gain
The Bedtime Rituals of the Best Rested
Lost Sleep Can Lead to Weight Gain
Cheating Ourselves of Sleep